The idea of a local kennel club was considered in 1961 by a small group of dedicated individuals who shared a common interest. There are records that indicate there may have been a York Kennel Club in the 1800's. It is a fact that the first meeting of the York Kennel Club was officially held in the quarters of the York Dog Obedience School on West Market Street on February 21, 1962.

Motivated by their love of dogs, a passion for obedience, and dedication to protecting and improving purebred dogs the kennel club was formed. The Club became a member of the American Kennel Club in 1962 serving as a resource within the community. York Kennel Club was incorporated June 22, 1963 and is now an IRS approved 501 (c) (7) not-for-profit corporation.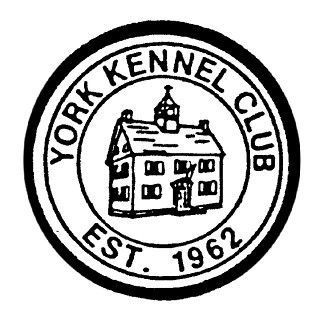 Logo
The York Kennel Club logo was designed by the club members. The logo represents one of the oldest buildings in historic downtown York, the York County Colonial Court House. The Court House was erected in 1756 in Centre Square serving as the United States Capital from 1777 to 1778.

Community Impact

York Kennel Club and its members strive to make a difference in the community and in the world of purebred dogs. The club holds an all-breed dog show under the American Kennel Cub's rules, sponsors various health clinics, offers breed referral, conducts conformation classes and Canine Good Citizen clinics, actively promotes community events as well as provides educational opportunities for the public and members related to responsible dog ownership.

York Kennel Club encouraged the passage of the Puppy Lemon Law passed in Pennsylvania, by actively campaigning and rallying on the steps of the York court house. The Puppy Lemon Law in now the law of Pennsylvania.
Each year the club donates part of the show proceeds to various York County dog oriented programs and animal shelters.

The York Kennel Club's objective continues to focus on advancing the best interest of purebred dogs and educating the public. We encourage camaraderie and adhere to the AKC's Code of Sportsmanship.